Gully Ka Kutta Lyrics – Emiway Bantai Diss Song to Divine – Emiway Bantai Songs
Gully Ka Kutta Lyrics – Emiway Bantai Diss Song to Divine:
Gully ka kutta is the latest hindi rap song 2020 of
Emiway Bantai
. This song is the reply of
Divine's
does track Sach bol patta. Music of the song is given by Flamboy and lyrics of gully ka kutta song is penned by Emiway Banati. Checkout Gully Ka Kutta song lyrics and video below.
Gully Ka Kutta Song Credits
Song- Gully Ka Kutta
Music- Flamboy
Lyrics- Emiway Banati
Gully Ka Kutta Lyrics – Emiway Bantai Diss Song to Divine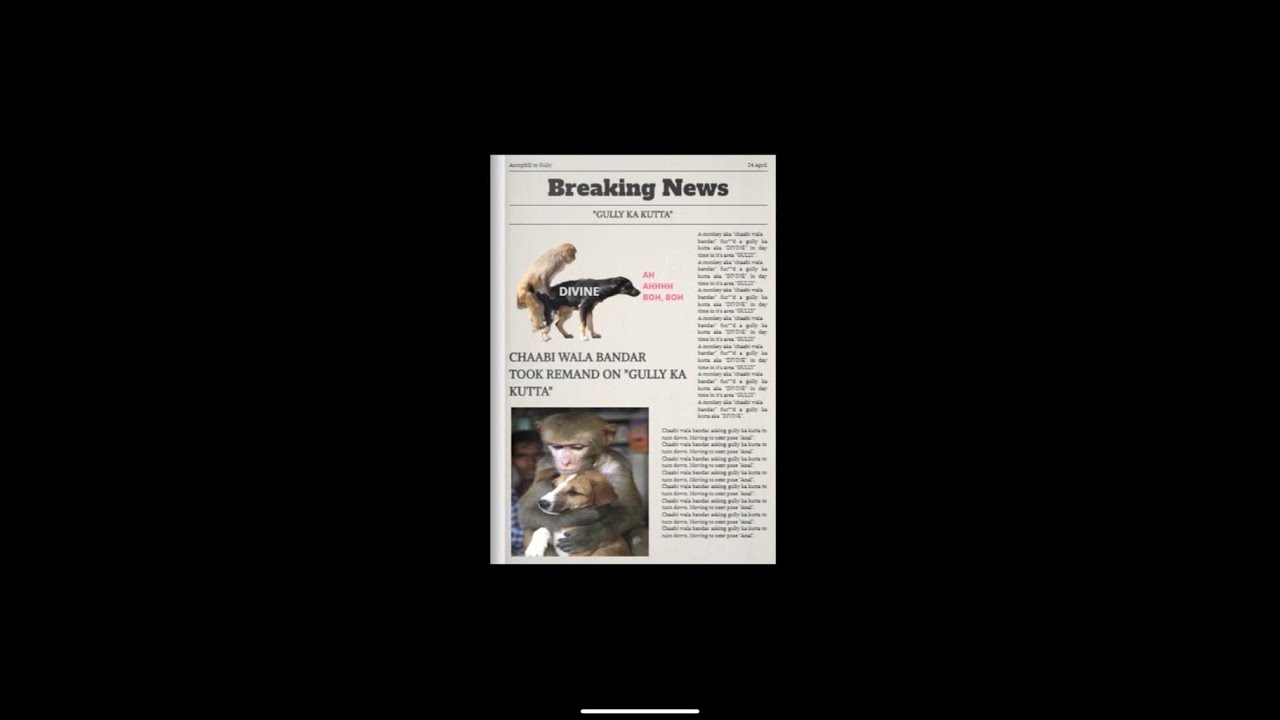 Gully Ke Kutte
Aauh mat kar chuske khatam kar
Ha ha ha..

Koi to pel rela jamkar
Bahg bhag bhag
Chuttiyagirijara kam kar
Micpe gara hai salamar kar
Mei deta hu one take me label ke worker
16 mahine chupke baitha Gully ka ye kutta
mujse darkar

Paise mat gina mere zindagi mei barkatnam
nahi liya

Mujhe malum tera mashkad
Beef game mei baap sabka tka tera mastak
Dost ke salon mei tere diyan mene dastak
Fatti padi thi teri ha Kisne thasaya tha
Aisa lag rha tha tu kisse toh khaya tha
Fir se dikhayega tu nakli pateli tu firse tu
khayega

Bantai ke baton se saoya nai ktine toh rato se
Lag ra hai baton se tere

Tu bhooka views ka islye tu nai kiya diss
mujhe pehle

Emiway na faile yeh tera soch hai be kele
Pelenge sabko akele
Mei lunga teri tu merurakhal hai
Rakh ke dekhle
Headmaster aaya toh Principal fail hai

Teir mei lunga mere pass toh sande ka tel hai
Diss kar ra bachkana yeh mera khel hai
Mere bars tadi par kare sabko
Kala Pani jail hai

Tere jaise kitne rapper log views ke liye diss
karre daily

Organic banda mei tu beta thale
Tu Pac bolta khudka machine gun khele
Awaz mei tere wajan nai hai
Yeh Raoe game hai bachkane bhajan nai Hai
Ha aisa kyugaata hai pasand hai hai
Apun unchai pe khadele Ghamand nai hai

Bato hi baton me kar dete dange
Tere jaise rapper ko karte nange
Gang leke aare mitthe karre pange
Tufan mere gane ka chum be pankhe
Chabhi wala bandar Hanuman banke mei
monkey

Beta mei kakarot
Yeh gully ke kutte ko kya do shot
Sirf gullygully kam akal ke
Divine mere bully ke shakal ke

Divine mere bully ke shakal ke
Rap game mei beta mei Shahrukh Khan
Wafadar kutta nai hai Tu bhul gaya gangis
khan

Jisne sab sikhaya woh sab tu chupaya
Asli khudko bole chus mera paya
With nalla rap game ka dalla
Chillake mat dikha galla

Tere se boht jyada billa aur hard mei
Firse nai lagna tu naad mei
Kholunga ab sare kand mein tere
Dekha nai tere jaisa rand mei

Har jagah deri hai
Show saste mei ke rhi hai
Tu market dubari hai kut*iya
Meri Ex nahi mili tujhe
Ghar baithke mar beta muthya

Abe bachkane jisko dekhke may rap chalo
kiya
Bolta hai Bachkane Uska channel khud mere
bad chalo hue la hai kiya
Aur tu 300 shows karke pateli mar liya
Bantai 29 ki umar mei doodh ki tees mei Jo
bhi apne ko pata nhi
Lekin kya hai teri umar mei aaunga fir baat
karunga

Aur tere jaisa saste showa nhi karta bantai
Aur recently tera khabar aaya tha
Tere 3 shows ka rate aone ek show ka rate
hai kya
Running le fat fat

Mei Independent mere gane ke copyrights
mere pass tere pass nai hai
Mere gully me boht bada fraud hai
Bech dega gully yeh
Ungli mei tasaunga teko tu nalli hai
Mumbai mei jitne log aye the show pe
Utne hi log beta khade the road pe
Gate todke sab machadale
Saare raapero ki bantai ki public ne bajadale
Ha ha ha

Sach ka sath dete hai sache log
Mera kuch nahi ukhadenge tere jaise bache
log

Baki artist se tu lerela jhol hai
Akon aur Nas se bus gully bulaya bas itna
bada tera goal hai

Tu beta chor hai bus chalte reh
Tu beta chor hai bus chalte reh
Tu beta chor hai credit nahi deta sath waalo
ko

Kab aaya dekheneko mai mara saath walo ko
Aake mera andwa lelo
Quality sound wale log
Quality sound wale log
Kulfa karo mera bantai
Quality rakh ke bhi kuch nahi ukhaade tum
jese log
Samjha kya

Satayanash karra hai nas ka tu naam leke
Usko nai pata tu bhagele glaas leke
Dusre ka dusre ka chusna ka
Koi isse sikhe
D-Evil iska aadhe gaane like
Woh sab toh thikhe hai
Gully boy ke set mai chaatne aa ta tha
Tu daaru pike khota gyaan baatane aa ta tha
Mai toh jhat nai aa ta tha

Tu pucha mujhe bantai aaoge kya
Ab gully ke kutte ko bhukh lagi fame ki
Pedigree dunga mai khoge kya Tu narak ka
gate toh mai jannat ka darwaza
Anthophill mai banau mannat ka darwaza
mera

Tu dekh be tera andheri mai tu felaya
andhera
Sach baat hai tera ki
Tere mai mere mai farak hai
Emiway Bantai toh boht zyda kadak hai
Gaane mere har ek gully aur sadak pe
Teko koi milri nai chehre pe tharak hai
Banjar zameen pe hum khadele marad hai
Galat hai jo kiya tu galat hai
Gaana tere sunke hora sardard hai
Tere ko aage badne ki ab garaj akele pel rela
Sab log ko darad hai

Gareebi ke aalwa boht kuch hai gully mai
Aage koi badra hai toh teri kyu jaali be
Itne saal baad aaya diss karne
Samjh mai mai aaya kya choda sardi mai
2018 mai yes i was back
100 million par Hip-Hop ka track
Gaane mai bolta hai
Sab kuch hai fact

Bantai se bhid gaya hai saman kar pack
Tu toh wack karke back to back mujhe piss
Dedh saale lage likhne ko diss
Tab jaake Trending mai aaya hai miss
Kam tere paas nahi hai pachis

Boht shot dera bhai tu teji se
Ha mere gully wale kutte
Aaja aaja chat mere jutte
Watch Also –Sach Bol Patta Lyrics- Divine
Share Gully ka kutta lyrics by Emiway Bantai now. If you find any mistake in song lyrics, do write us.